Today I am linking up with Jenna over at
The Life of the Wife
for her "The Last 13 Things" link-up! I love doing things like this because it's a fun way of sharing bits about me with everyone and it helps all us blog girls connect! Join in, I promise it'll be fun!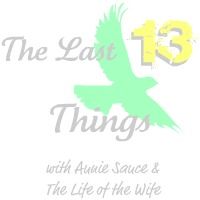 THE LAST THING I...
ATE:
A couple of these bad boys Caleb got me for Valentine's Day
BOUGHT:
A whole bunch of groceries and gas at Kroger this afternoon
READ:
The Great Gatsby after Sadie had her way with it.
LAUGHED AT:
I don't really remember...probably something Sadie did.
COOKED:
I want to think that I am an amazing cook, but this is what dinner looks like at my house most nights.
BAKED:
HAHAHA...that's funny. I don't bake ever. I put some frozen biscuits in the oven the other day...does that count?
CRAFTED:
I don't really craft either, however, today I helped Caleb make a bulletin board for his classroom!
DROOLED OVER:
This little guy. I don't even know why I torture myself by looking at puppies. I really don't even want another puppy right now; I just want to snuggle him for a few hours and hand him back over to his owners.
COVETED:
A baby. I know that's a strange thing to covet, but I know quite a few handfuls of friends/acquaintances who have announced their pregnancies/had babies these past few weeks. I know I am not in the right place in my life for a baby right now, but somewhere deep deep inside me, I don't really care. I want one NOW.
WORE:
No work today, so I got to wear a t-shit and jeans. YAY!
My Toms Caleb got me for my birthday!
And a t-shirt from my boss's bar
THOUGHT:
The last major thoughts I have had today were this morning during my American Lit midterm. As
Olivia
said, it was "beastly" lol
CRAVED:
MILK! OMG, we have been out of milk for a couple of days and when I got home from the store today, I seriously drank 2 big glasses of milk! (we buy whole milk, too, so I was full pretty much all day from that!) And btw, I was diagnosed with a lactose intolerance when I was 21, so drinking milk is pretty much begging for an unhappy tummy later. But you just can't undo 21 years of dairy goodness...yes, yes, I am a masochist.
WAS THANKFUL FOR:
My education. I was fortunate enough to go to one of the best public high schools in Mississippi, and I took all of those opportunities for granted. Seeing schools and students here in the Delta makes me so grateful for all of the things I was given.
Well, that's all for this link up!
Nicole