Dear Other Bloggers,
do you obsessively check your email for new comments like I do? It's like like I'm on crack; every time I get a comment, I get a high and then I just want more and more.
Dear Readers
, I don't actually know what it is like to be on crack.
Dear Southaven
, I'm coming. Be prepared.
Dear Simba
, Thank you for always being my personal radiator while I'm sitting around the house. I love that you love to cuddle.
Dear Delta State University
, I am graduating from you in 6 months and 2 weeks. I will miss you...but not really...but sorta...
Dear Teacher Work Sample
, I am incredibly proud of you. I came up with a whole week's worth of lessons
en francais
with very little guidance. And dare I say those lessons were
tres maqnifique!
Dear Husband,
I love you. I love what we are doing with our lives. I love us.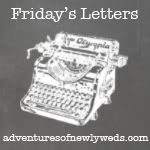 Nicole